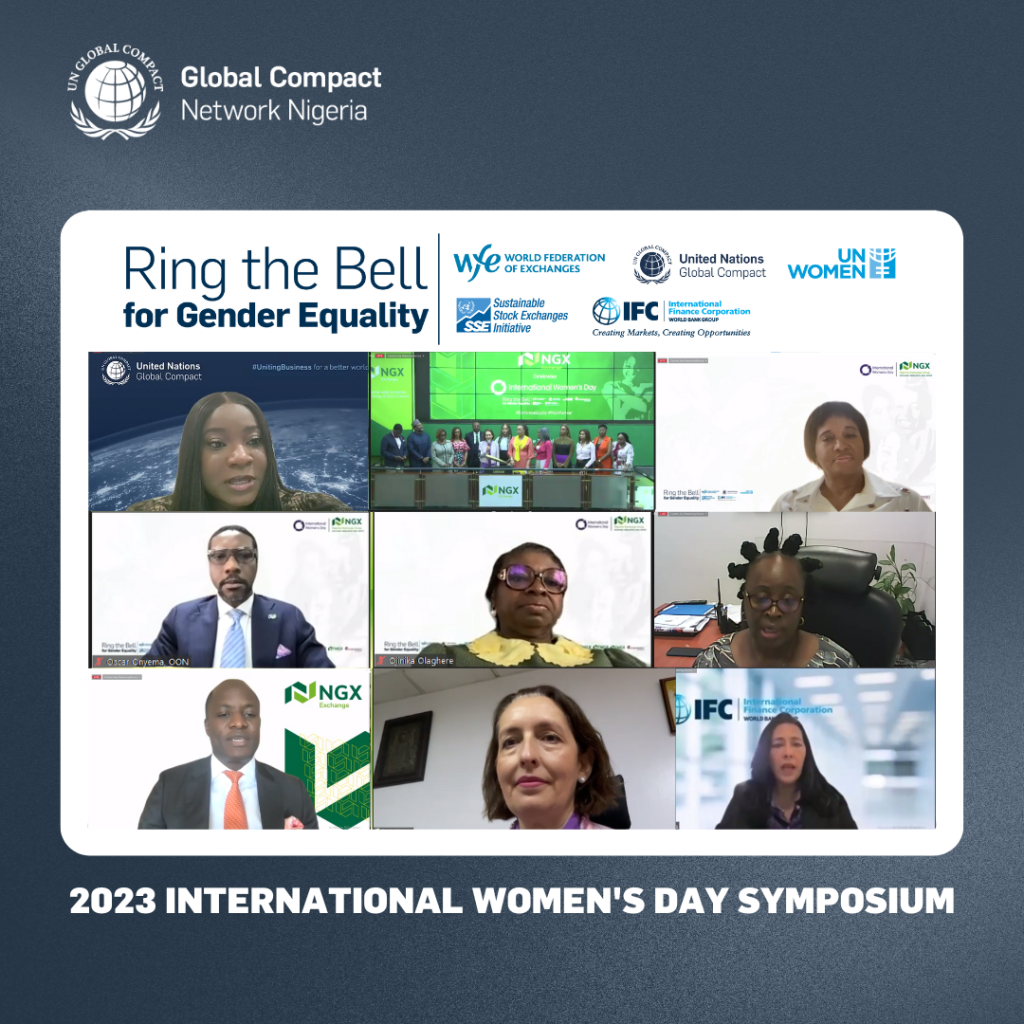 LAGOS, NIGERIA, 8 March 2023 — The UN Global Compact Network Nigeria, in partnership with the Nigerian Exchange Group (NGX), the International Finance Corporation (IFC), UN Women, and Women Executives on Board, held a webinar on International Women's Day with the theme "Embrace Equity: Setting the Standard for a Sustainable Future." The virtual event took place on March 8, 2023, and brought together the UN, civil society organisations and the private sector to discuss the importance of gender equity in achieving sustainable development.
In her goodwill address, Naomi Nwokolo, Executive Director, UN Global Compact Network Nigeria, said:
"Gender equality is beneficial to businesses that are inclusive; they enjoy the high productivity and profitability that come from implementing diverse, innovative ideas. Through our numerous global and local programmes, companies have committed to over 800 interventions, policies, and programmes aimed at advancing gender equality in their companies, and we are open to collaborate with companies eager to address gender equality."
While welcoming partners and guests, Oscar N. Onyema, OON, GCEO Nigerian Exchange Group Plc, emphasized the importance of breaking down barriers and challenging biases that impede progress toward equity and inclusion. He urged the creation of more opportunities for women and other underrepresented groups to enter and succeed in the energy industry and stressed the need for our support of them as they advance in their careers.
Also speaking at the event, Beatrice Eyong, Country Representative, UN Women Nigeria and ECOWAS, stated:
"We are looking at the private sector as a good example of women's empowerment in terms of representation and participation in Nigeria. I use this opportunity to call upon all of you to advocate for and contribute to women's representation in leadership positions. There are potentials of digital technology solutions for women, especially those with disabilities: technology put in their hands, can help them contribute more to the development of their nations."
Insisting that "gender equity is a smart business strategy," IFC Regional Director Dahlia Khalifa asserted that there is a need to do more to close the gender gap in the workplace.
The webinar featured a fireside chat about creating safe spaces for women to thrive as well as a panel discussion about financial independence: challenging the status quo for an equal tomorrow. The event provided a forum for participants to share best practices and insights on how to create a more equitable and sustainable future for all.
Other speakers included Catherine Nwakaego Echeozo, Chairperson, NGX RegCo; Temi Popoola, CEO, NGX, Mrs. Ojinika Nkechinyelu Olaghere, Board Member, NGX Group; Rosie Bichard, Co-Chair, Women Executives on Boards Network; Tinuade Awe, CEO, NGX Regulation Limited; Adesuwa Rhodes, CEO, Aruwa Capital Management; Actress and Entrepreneur, Kate Henshaw, among others.
The International Women's Day webinar represents an important step forward in the UN Global Compact Network Nigeria's efforts to promote gender equity and women's empowerment in the country. Over time, the event has aided in raising awareness, forming partnerships, and identifying opportunities for action in the direction of a more sustainable future for all by bringing important stakeholders together.
The event came to a close with Rosie Bichard, Co-Chair, Women Executives on Boards Network, striking the Closing Gong Ceremony at the floor of the Nigerian Exchange to mark the 9th annual Ring the Bell for Gender Equality event and to close the market.
Watch the full webinar