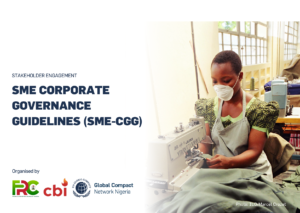 The Financial Reporting Council of Nigeria (FRC), in collaboration with the Convention on Business Integrity (CBi), and the United Nations Global Compact Network Nigeria has developed Corporate Governance Guidelines applicable to the Micro, Small and Medium Enterprises (MSME) sector of the Nigerian economy. 
The objective is to improve Nigeria's business environment, enhance the longevity and sustainability of MSMEs, and bolster business
confidence, capital access, and trade opportunities for compliant entities. The guidelines provide practical steps for entities to consider as they embark on the gradual implementation of corporate governance.
Stakeholder Consultation on the Review and Adoption of the Corporate Governance Guidelines for MSMEs in Nigeria will take place on  Thursday, July 6, 2023, in Lagos, Nigeria.