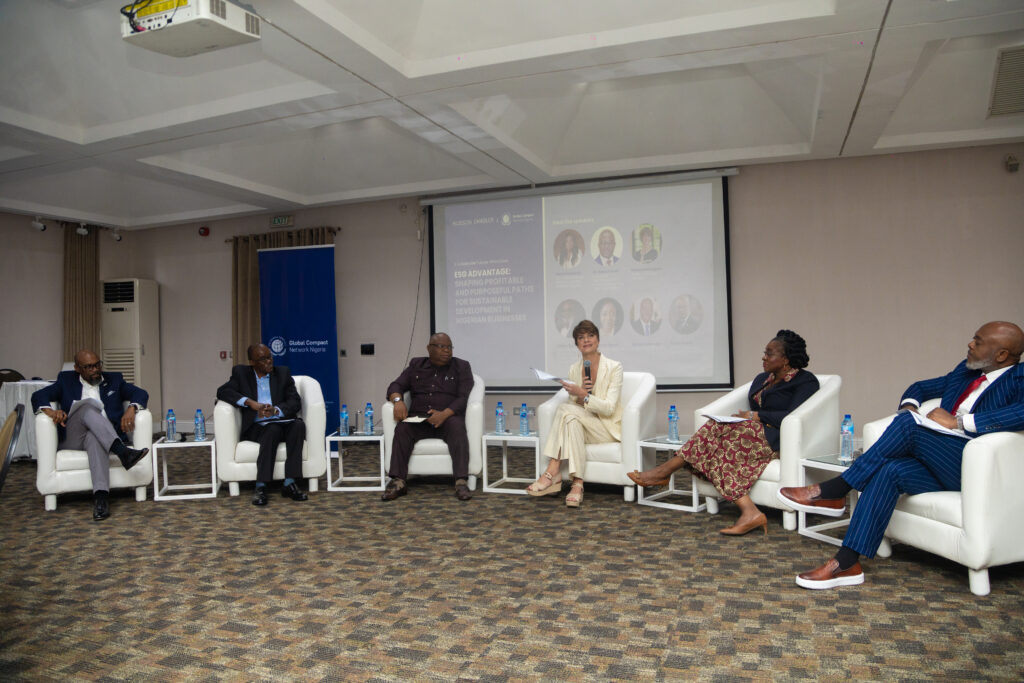 Lagos, Nigeria, October 25, 2023 — The Sustainable Futures Africa event, hosted by Hudson Sandler in collaboration with the United Nations Global Compact Network Nigeria, took place at The Wheatbaker in Ikoyi, Lagos, on Wednesday, October 25th. The event brought together industry leaders, experts, and stakeholders to explore and discuss the Environmental, Social, and Governance (ESG) aspects of sustainable development in Nigerian businesses.
The event featured insightful presentations, case studies, and a dynamic panel discussion, providing valuable perspectives on the integration of ESG principles into business strategies. The distinguished line-up of speakers included Naomi Nwokolo, Executive Director of the UN Global Compact Network Nigeria; Ayotola Jagun, Chief Compliance Officer & Company Secretary at Oando PLC and Board Member, UN Global Compact Network Nigeria; Emeka Oparah, Chief Communications Officer at Airtel Africa Plc; Dr. Rabiu Olowo, CEO of the Financial Reporting Council; Dapo Otunla, Chief Corporate Services Officer, IHS (Nigeria) Limited; and Benson Adenuga, Country Director, British International Investment.
Naomi Nwokolo, Executive Director, UN Global Compact Network Nigeria, stated: "Globally, there is an average annual funding shortfall of USD 2.5 trillion between public and private investments in sectors related to the Sustainable Development Goals (SDGs) in developing countries (UN Sustainable Development Group). Businesses in Africa are making huge contributions to society, but few are fully engaged in environmental, social, and governance (ESG) issues. To achieve maximum impact and scale, companies must collectively adopt SDG-aligned practices to meet social and governance expectations in society."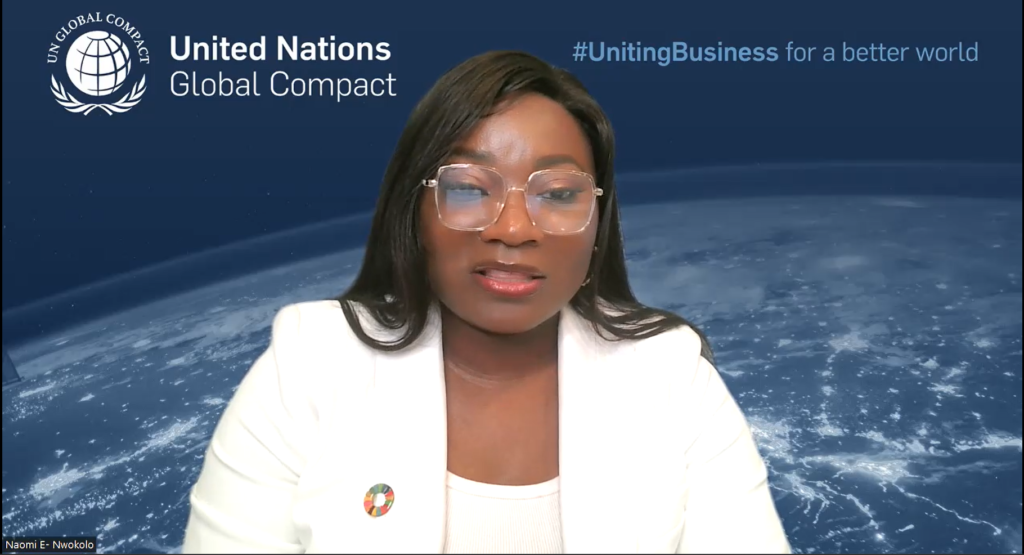 Rebecca Gudgeon, Partner and head of Hudson Sandler's Sustainability Practice added: "Aligning business operations with ESG principles is essential for long-term viability, resilience, and market relevance. Investors increasingly consider ESG performance as a significant factor in investment decisions, impacting funding and growth opportunities. The diverse perspectives shared by our speakers underscore the urgency and importance of integrating ESG principles into corporate strategies."
The panel discussion covered critical topics such as establishing a credible ESG profile, stakeholder expectations, organisational benefits of sustainability integration, ESG investing, and best practices in sustainability communications. Speakers emphasised the necessity of transparent reporting, stakeholder engagement, and ethical leadership to drive sustainable growth.

The event concluded with a post-panel Q&A session, allowing attendees to engage directly with the expert speakers. The closing remarks highlighted the commitment of businesses to adopt sustainable practices, address stakeholder expectations, and contribute to the achievement of the UN Sustainable Development Goals.
About Sustainable Futures Africa:
Sustainable Futures Africa is an initiative aimed at fostering discussions, sharing knowledge, and promoting collaboration for sustainable development in Africa. By bringing together thought leaders, industry experts, and stakeholders, the event strives to shape a profitable and purposeful path for African businesses.
About United Nations Global Compact Nigeria:
The UN Global Compact Network Nigeria is one of the 74 Local Networks (country offices) of the United Nations Global Compact, the world's largest corporate sustainability initiative. Guided by The Ten Principles and the 17 SDGs, we support companies and stakeholders in understanding what responsible business means within a global and local context, and provide guidance to translate sustainability commitments into action. The UN Global Compact Network Nigeria stimulates and facilitates the creation of local connections and serves as a catalyst for companies and stakeholders to achieve Agenda 2030.
For more information, visit us at www.unglobalcompactng.org.
About Hudson Sandler:
We are an independent strategic communications and ESG consultancy headquartered in London. Our 'One Team. One Culture. Diverse Thinking' ethos means we work without borders or boundaries. We provide world-class creativity and strategic thinking for our clients, ranging from international market leaders to growth businesses in the UK and across emerging markets including CIS and Africa. We are Hudson Sandler. We create possibility.