Major Nigerian employers learned about the benefits of mainstreaming disability inclusion into their operations.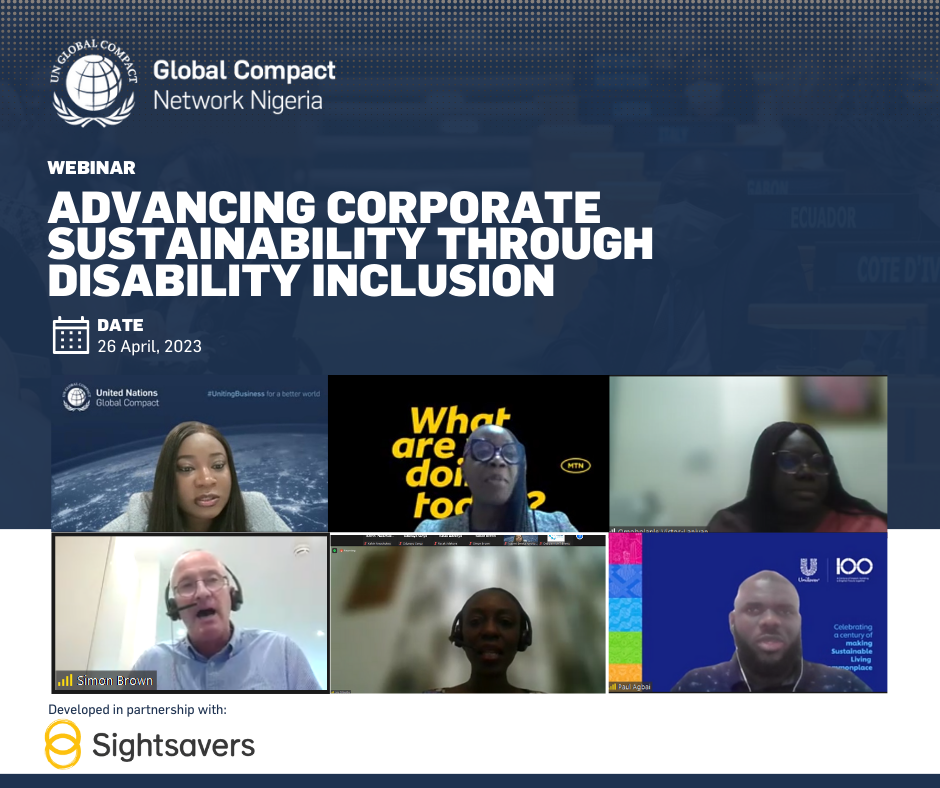 LAGOS, NIGERIA, 26 April 2023 — On Wednesday, April 26, the UN Global Compact Network Nigeria and the international NGO Sightsavers co-hosted a virtual event to discuss how private sector employers in Nigeria and across West Africa can mainstream disability inclusion in their workplaces. The webinar, themed "Advancing Corporate Sustainability Through Disability Inclusion," was attended by representatives from the UN, the private sector, and civil society.
In her opening remarks, Naomi Nwokolo, Executive Director, UN Global Compact Network Nigeria, emphasised that disability inclusion is an integral part of the United Nations Sustainable Development Goals (SDGs).
"As business leaders and corporate citizens, we have a responsibility to ensure that our organisations are inclusive and accessible to everyone, including people with disabilities. Disability inclusion is not just a moral imperative; it is also a business imperative. Studies have shown that companies that embrace diversity and inclusion, including disability inclusion, are more innovative, productive, and profitable than those that do not," she added.
During his keynote speech, Simon Brown, Deputy Technical Director of Economic Empowerment at Sightsavers, said, "Disability inclusion is not just the right thing to do ethically, it's also good for business. The global economy loses six trillion US dollars each year because of the exclusion of persons with disabilities."
Dr. Joy Adeyinka Shuaibu, Director of Programme Operations for Sightsavers, moderated a panel discussion with business experts who are making strides in disability inclusion. The panellists were Omobolanle Victor-Laniyan, Head of Sustainability at Access Bank and Board Member of the UN Global Compact Network Nigeria; Odunayo Sanya, Executive Secretary of the MTN Foundation; and Ola Ehinmoro, Human Resources Director for West Africa at Unilever (represented by Paul Agbai, Human Resources Business Partner, Functions West Africa, Unilever). The panellists addressed the benefits of disability inclusion for both employees and employers and how the private sector can tap into the benefits of mainstreaming disability. The three disability-confident companies also shared their best practices for implementing inclusive policies.
Businesses were enjoined to advance disability inclusion in their operations by actively involving persons with disabilities and their representative organisations in decision-making processes, ensuring accessibility in all aspects of their operations, and developing disability-specific policies and strategies.
The event concluded with a call to action for companies to commit to improving their disability inclusion efforts by aligning with the Ten Principles of the UN Global Compact and to partner with Sightsavers' employment initiative.
Notes to Editor:
About UN Global Compact Network Nigeria
The UN Global Compact Network Nigeria is one of the 74 Local Networks (country offices) of the United Nations Global Compact, the world's largest corporate sustainability initiative. Guided by The Ten Principles and the 17 SDGs, we support companies and stakeholders in understanding what responsible business means within a global and local context and provide guidance to translate sustainability commitments into action. The UN Global Compact Network Nigeria stimulates and facilitates the creation of local connections and serves as a catalyst to companies and stakeholders to achieve Agenda 2030. For more information, visit us at www.unglobalcompactng.org.
About Sightsavers:
Sightsavers is an international organisation that works in more than 30 low and middle income countries to end avoidable blindness, treat and eliminate neglected tropical diseases, and promote equality of opportunity for people with disabilities. Sightsavers vision is of a world where no one is blind from avoidable causes and people with disabilities participate equally in society.
For more information, please visit: www.sightsavers.org