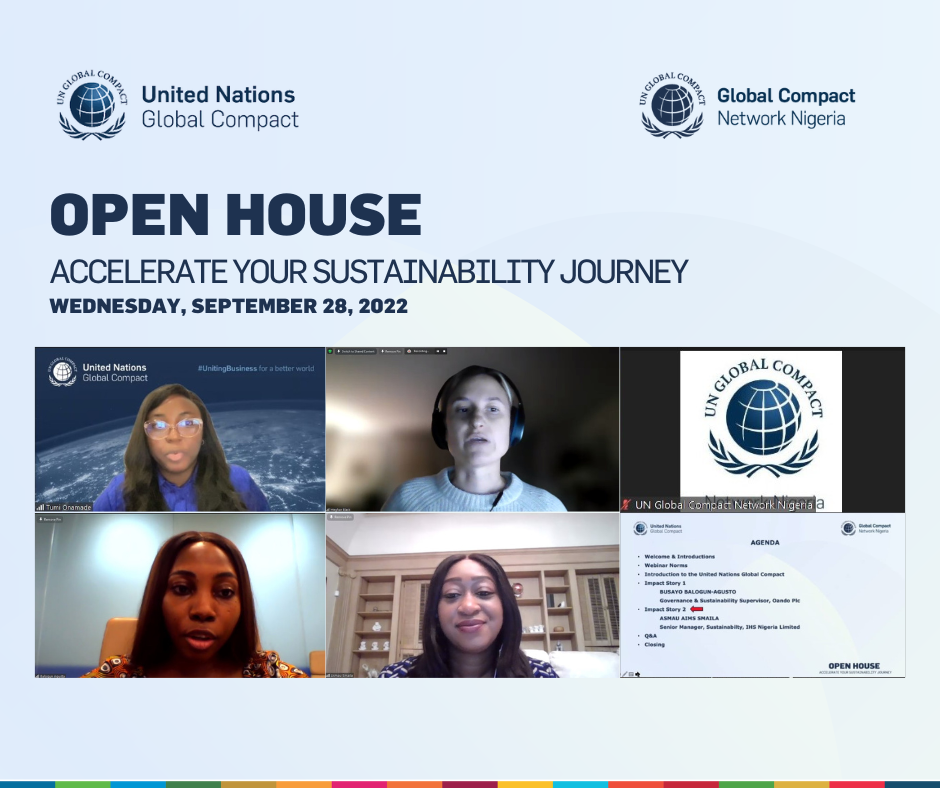 LAGOS, NIGERIA, 28 September 2022 — The UN Global Compact Network Nigeria, in collaboration with the United Nations Global Compact Office in New York, on Wednesday, September 28, organised the 2nd Open House of the year. The virtual event, themed "Accelerate Your Sustainability Journey," welcomed guests from the private sector, including SMEs, NGOs, and Civil Society Organisations. The objective of the Open House was to encourage more cross-functional collaboration in addressing some of the world's most pressing issues.
In her introductory remarks, Tumi Onamade, Senior Manager, Participant Engagement & Programmes, UN Global Compact Network Nigeria, informed the participants that the open house provides an overview of how the United Nations Global Compact is uniting the business community and how businesses can accelerate their sustainability journey and scale global impact.
In her presentation, Meghan Black, Senior Manager, Participant Engagement, (Asia, Africa, the Middle East, and Eastern Europe) United Nations Global Compact, shared opportunities for engaging companies in developing sustainability strategies through various global and local initiatives.
"We have a wide range of activities that companies can participate in. These activities are designed to either connect, to learn, to lead and to communicate. We offer events at the regional and global level and through our local networks.  Recently, the Private Sector Forum (PSF) was held on the sidelines of the UN General Assembly. Our next flagship event will be at the COP27 activities."
(The  PSF is a gathering of global leaders at the United Nations during UN General Assembly week to address major global issues such as climate change, sustainable development, and human rights.)
Furthermore, she stated that companies can learn from the UN Global Compact Academy platform, Peer Learning Groups and Accelerators.
"Companies can lead in Policy, Advocacy and Campaigns, where companies can make a public statement. Finally, Think Labs and Coalitions provide opportunities for companies that are leaders in specific areas to collaborate to innovate and shape those areas," Meghan added.
While intimating the guests about the accelerator programmes of the Local Network, Tumi Onamade shared that the Global Compact offers guidance on solutions to the world's most pressing issues, which cut across company sizes. She noted that the UN Global Compact has contributed to several success stories recorded by Local Network participants who partook in our accelerator programs. One of them is the Young SDG Innovators Programme (YSIP)—designed to engage companies' brightest and best talent in not only advancing their sustainability efforts but driving innovation and delivering tangible solutions with potential market value for the companies. The second programme is the Climate Ambition Accelerator (CAA)—a six-month accelerator programme designed to equip companies with the knowledge and skills they need to accelerate progress toward setting science-based emissions reduction targets aligned with the 1.5 °C pathway, setting them on a path toward net- zero emissions by 2050. Lastly, the Target Gender Equality (TGE) programme supports companies engaged with the UN Global Compact in setting and reaching ambitious corporate targets for women's representation and leadership through facilitated performance analysis, capacity-building workshops, peer-to-peer learning and multi-stakeholder dialogue
During the impact stories segment, participants at the open house listened to how Oando Plc and IHS Nigeria, two UN Global Compact participants, are advancing their business strategies to set admirable examples for corporate sustainability. Busayo Balogun-Agusto, Governance & Sustainability Supervisor, Oando Plc, who passed through the YSIP in 2021, attributes much of her organization's progress toward sustainability to the UN Global Compact, both at the global and local levels.
"There are lots of opportunities to be seized when engaging effectively with the SDGs. As an oil and gas company, we understand the impact our operations have on the environment, so we are increasing investments in the renewable energy sector.
"Last year, we incorporated Oando Energy Ltd., which focuses on sustainable transportation, waste, solar energy solutions, gas, biofuels, and more. In June this year, we entered into an MoU with the Lagos State Government and Lagos State Metropolitan Transportation Authority to roll out electric vehicle buses for mass transit as well as the charging infrastructure," Busayo revealed.
Asmau Aims Smaila, Senior Manager, Sustainability, IHS Nigeria Ltd., pointed out that her organisation is committed to finding creative solutions to the biggest social and environmental challenges across its value chain. She noted that IHS' sustainability and CSR strategy align with the UN Global Compact's Ten Principles and the SDGs, as well as with Nigeria's aspirations to use telecoms as a tool for national economic growth.
"We hone in on the SDGs, which we approach with targets, indicators, and benchmarks. It is not enough to be ambitious; it must also be realistic. Even though we experience challenges that stare us in the face, we have opportunities to strategize and tailor-suit our business needs and tweak them to ensure continuous improvement.
"The UN Global Compact is the compass you need, and its support is unrelenting. IHS participated in the TGE programme and we are currently in the process of signing on to the Women's Empowerment Principles (WEPs), all thanks to the hand-holding and guidance, "Asmau added.
The Open House ended with a call to guests to participate in the Global Compact to gain access to the resources needed to ensure the sustainability of their businesses.
Watch the recording on YouTube.
To join the UN Global Compact, click here.