LAGOS, NIGERIA – MAY 16, 2022 Assistant Secretary-General & CEO of the United Nations Global Compact, Ms. Sanda Ojiambo will on Tuesday the 17th of May 2022, present the Global Compact's Africa Strategy (2021 – 2023) at a CEOs Breakfast Roundtable in Lagos, Nigeria.
The closed event will hold from 8:00 AM – 10:00 AM at the Rooftop Event Hall, MTN Plaza, Falomo, Ikoyi, Lagos Nigeria.
Ms. Ojiambo will present the Africa Strategy to a group of high-level stakeholders including CEOs of member and non-member organizations, selected bureaucrats, the Resident Coordinator, United Nations Matthias Schmale, and representatives of other UN Agencies, as well as members of the Diplomatic Corps.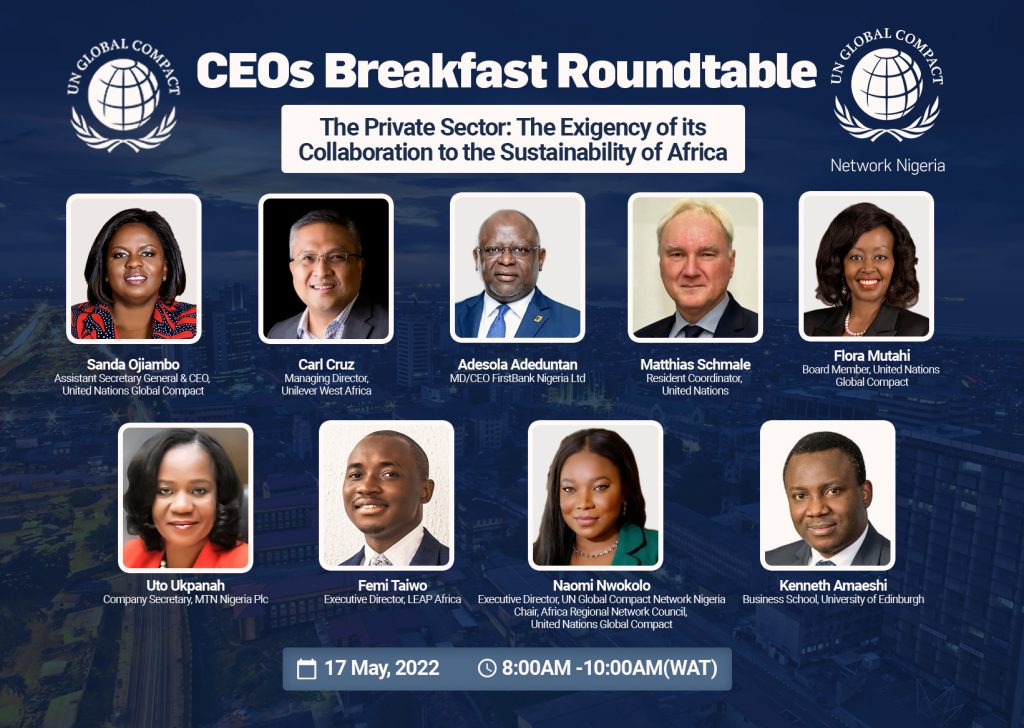 The UN Global Compact's Africa Strategy (2021-2023) is a proposed roadmap to accelerate corporate sustainability and champion the business sector's contributions to sustainable development across the continent. It aims to galvanize large and small businesses across Africa to uphold the Global Compact's Ten Principles for responsible business practices while emphasizing the need for urgent action to drive inclusive, sustainable, and resilient growth in Africa.
The United Nations Global Compact is working to secure the commitment of Nigeria's private sector leaders to the implementation of the Africa Strategy. It will also provide a platform for participants to strengthen partnerships, develop opportunities for collaboration and advance their commitments to the Ten Principles.
The breakfast roundtable will also serve as a precursor to the launch of the UN Global Compact's Africa Regional Hub in Abuja on May the 19th 2022, which will be the regional backbone for implementing the ambitions of the Africa Strategy and increasing the Global Compact's footprint and impact across the continent.
Signed
Naomi Nwokolo, Executive Director, UN Global Compact Network Nigeria
About The UN Global Compact Network Nigeria
The United Nations Global Compact Network Nigeria is one of the 71 local networks (country office) of the UN Global Compact.
Guided by The Ten Principles and the 17 SDGs, we support companies and stakeholders in understanding what responsible business means within a global and local context and provide guidance to translate sustainability commitments into action. The UN Global Compact Network Nigeria stimulates and facilitates the creation of local connections and serves as a catalyst to companies and stakeholders to achieve Agenda 2030.
For more information, visit our website, www.unglobalcompactng.org, or contact us via @info@globalcompactng.org and +23412952003,+23412952849.