As the world marks the International Youth Day, the Alliance for Youth Nigeria has announced the conclusion of a vocational skills training program reaching over 350 young Nigerians in Lagos and Kano States. The training, which covered four skillsets – Solar panel installation, Graphics Design (Designs, social media and web design), CCTV and Cable installation, and Beauty Care (make-up, aromatherapy and massage), were delivered in collaboration with Whitefield Foundation.

The Vocational Skills Training is one of the projects of the Alliance designed in accordance with the Alliance's objective of reaching 250,000 young Nigerians with employability and entrepreneurial skills to enable them secure gainful employment or set up businesses of their own within 3 years. This objective, which was announced during the launch of the Alliance, is in line with their commitment to work together to address the challenges of youth unemployment in the country with the associated social and economic impact.
Launched in August 2021, the Alliance is a business-driven movement of organizations passionate about working together to help young people around the country acquire the necessary skills to thrive in the world of work or create their own enterprise. Members of the Alliance for Youth Nigeria include Nestlé Nigeria, Jobberman Nigeria, Big Bottling Company, the United Nations Global Compact Network Nigeria, U-Connect HR Limited and Sterling One Foundation with the Federal Ministry of Youth and Sports Development, Lagos State Employment Trust Fund and Activate Success International as partner organizations.
Since inception, the Alliance has reached over 11,000 young Nigerians with employability and entrepreneurial trainings, internship and mentoring opportunities and job placements. Projects delivered include:
Soft skills training, covering personal effectiveness and time management, effective communication, business etiquette, employability skills, emotional intelligence, for NYSC and fresh graduates in November 2021 reaching 590
Soft and employability skills training, covering critical thinking and problem solving, creativity and idea generation, developing the right mindset for the world of work, effective communication etc, in May and June 2022 reaching over 9,600 NYSC members in Lagos, Kano, Ogun and FCT orientation camps
Employability trainings for fresh graduates in April and June 2022, covering career positioning, personal brand marketing, building winning resumes, developing interpersonal skills, developing an entrepreneurial mindset etc, and reaching over 610
Vocational skills training, covering solar panel installation, graphics design (designs, social media and web design), CCTV and Cable installation, and Beauty Care (make up, aromatherapy and massage), in Lagos and Kano states in August 2022 reaching over 350

The member and partner organizations have positioned themselves to invest in joint and individual projects to give young Nigerians meaningful work experience, internships, readiness-for-work training, and mentoring opportunities and are committed to contributing towards the United Nations Sustainable Development Goal 8 – to promote sustained, inclusive, and sustainable economic growth, full and productive employment, and decent work for all by 2030.
Celebrating the International Youth Day and first-year anniversary of the Alliance, high-flyers of the vocational skills training were gifted start-up kits to ensure the immediate take-off of their businesses. High-flyers from the graphics design training were provided laptops, those from the Beauty, massage and aromatherapy training were provided make-up tool kits and massage beds while high-flyers from the installation trainings were awarded complete toolboxes for their vocation.

Speaking at the award ceremony, Shakiru Lawal, Country HR Manager, Nestlé Nigeria PLC said, "Youth are the future of our world and Nestlé is determined and committed to working with stakeholders and likeminded organizations to help young people develop their skills so they can find jobs or create their own businesses."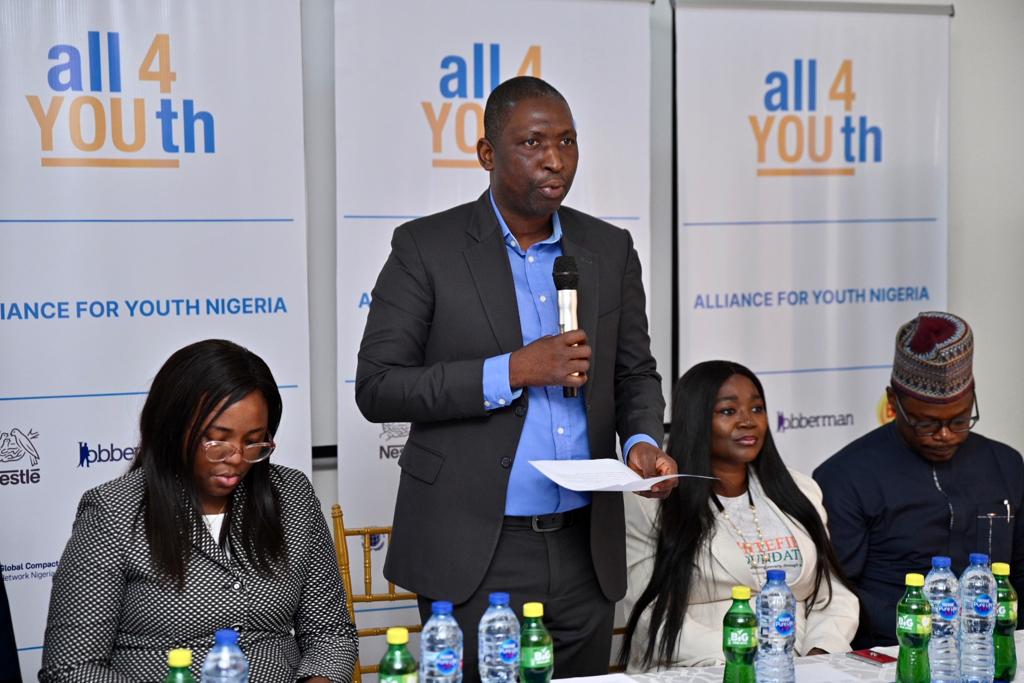 "We are delighted with the progress we have made as an Alliance in the past one year, reaching 11,000 youth. Yes, we are still a long way from our target, but we have built the framework and alliances that will help us deliver on our objectives. The provision of start-up kits to young people who excelled in the vocational skills training is a significant step in the right direction".

Also speaking at the event, Mr. Lanre Coleman, General Manager, U-Connect Human Resources Limited said, "Youth are the future of the nation. Every investment towards their employability, engagement and empowerment is very critical for the society's good and sustainable progress".

According to Innih Ikhide, Youth Engagement and Learning Manager Jobberman Nigeria, "Youth in every society have the potential to stimulate economic growth, social progress and national development. The Alliance for Youth Nigeria is providing an ecosystem of learning where young Nigerians can upskill by
acquiring 21st century skills that will increase their chances of getting employed or becoming self-employed. The testimonials from beneficiaries will continue to motivate us to do more".
For Naomi Nwokolo, Executive Director of UN Global Compact Network Nigeria, "Our one-year anniversary is proof that advancing decent work for youth requires unprecedented levels of collaboration between key partners. The Alliance serves as a catalyst for reducing unemployment and promoting youth independence in order to increase labour and economic productivity in Nigeria."
"In keeping with the theme of this year's Youth Day celebration tagged Intergenerational Solidarity, we want to take advantage of this opportunity to implore other corporate organizations, NGOs, and governmental institutions to act on specific Sustainable Development Goals (SDGs) in order to have a positive impact on our future leaders. We urge stakeholders to take collective action on Goal 4, to encourage equitable quality education and promote lifelong learning at all levels; Goal 9, to motivate innovation, build good infrastructure, and thriving industries to absorb these youths; as well as Goal 8, to advance decent work and economic growth in the country. "

In his comments, 'Goke Olaleye, Marketing Manager, The Big Bottling Company Limited, said, "Investment in young people support economic empowerment of the nation and world at large. The Big Bottling Company Limited, while congratulating Nigerian youths, remains committed to supporting their aspirations for growth".

In a statement on behalf of the Honorable Minister of Youth and Sports Development, the Special Assistant to the Honorable Minister, Oluwakemi Areola, said, "In the next 10 years, jobs would have evolved from the traditional model we are familiar with now. It is imperative that Nigerian youth equip and upskill themselves with the necessary skills (digital and vocational) to give them added advantage and keep them better positioned for the continuous benefit of decent work. The Ministry commends the effort and investment of the Alliance in promoting economic opportunities for young Nigerians".

On behalf of other participants, Oluwakemi Olatunfe, who participated in the training in the Beauty category, commended the Alliance member companies for providing the unique opportunity for the training and upskilling of young Nigerians. Particularly delighted at the start-up kit awarded her by the Alliance, she promised to fully utilize the training and the kit to start up her business, thereby adding value to herself and her family.
The International Youth Day is celebrated annually on 12 August to bring youth issues to the attention of the international and national communities, raising awareness of major concerns that impact on young people, particularly as related to health, education and employment while celebrating the potential of youth as partners in today's global society.

With over 13.9 million youths unemployed and millions in unstable employment and underemployed in Nigeria, young people need the right skills and experience to help them in a rapidly changing economic and the Alliance for Youth Nigeria is committed to continued investment in young people for a better future.
Photos: