November 2020 – November 2021
The YSIP is a Global Impact Initiative accelerator Programme designed to engage young professionals working in member companies across the world. 
As a leading network in Africa, Local Network Nigeria was fully engaged in the implementation of the Programme, resulting in the selection of two teams from Nigeria to participate at the Global Solution Showcasing Event during the Young SDG Innovators Summit (details below).
In the course of the Programme, Innovators were equipped with vital skills to advance sustainability efforts, drive innovation and deliver tangible sustainability solutions for their companies.
Camp one, which was facilitated by a highly knowledgeable and experienced team from our Member, LEAP Africa, featured three key sessions:
➔ Breakthrough Innovation: Addressing the huge market opportunities that the SDGs represent, and why forward-thinking companies need to capitalize on them.  
➔ Building a Breakthrough Mindset: Understanding what 'The Breakthrough Mindset' looks like within companies and practical steps companies can take to embed it in their innovation processes.
➔ Introduction to Mindset & Innovation: Understanding how the breakthrough mindset is integral for achieving breakthrough innovation for their business, within the contexts of Strategic Integration and Operational Integration.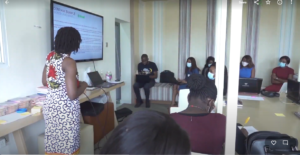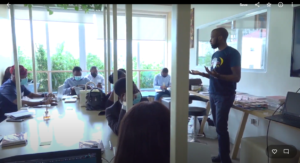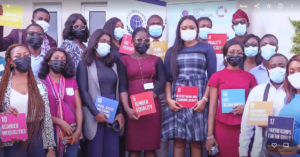 In Camp Two, facilitators guided Nigeria's first cohort through three key sessions which featured both virtual and physical training. Here, Participants learned about: 
➔ Loving the Problem: Applying user-centric and system-view approaches to define companies' SDG-in-business challenges.
➔ Breakthrough Business Models: How new ESG business models are enabling companies to unlock groundbreaking market-value opportunities.
➔ Defining Your SDG Challenge: How to create an effective and ambitious SDG business challenge for breakthrough innovation.
Following the conclusion of Camp Two, Innovators were tasked with identifying and defining SDG challenges relevant to their respective parent organisations and industries, as the basis for engagement in the further stages of the programme.
Camp Three served as a platform through which Innovators enjoyed exclusive in-depth mentoring from industry experts, as well as peer-to-peer learning.
Graciously serving as mentor and guide to our first Innovators cohort during this bootcamp session was Mrs. Ndidi Nwuneli, Founder of LEAP Africa and Co-founder of AACE Foods and Sahel Group. 
Drawing from her wealth of experience, she provided invaluable insights into the workings, challenges and immense potential for impact of SDG-driven business innovation. She reminded Innovators that there is still much to be done in Nigeria and Africa in terms of addressing 'basic' human challenges and needs, transforming the culture/system, and building human capacity for long-term sustainability.
Also providing peer-to-peer knowledge sharing, were Ms. Abiola Ambiya and Ms. Emike Etu, Innovators from Union Bank and Oando Plc. respectively, whose organizations have already been blazing the trail for sustainability in different focal areas.
At the penultimate Camp 4, Innovators who had developed and submitted their 'Challenge Definition' tasks were subjected to a rigorous pitch session. Individual innovators and company teams each took turns to present their SDG business solutions to the 'general audience' of their peers, and a Panel of "Judges", who were mentors from the Nigerian Local Network members and partners. 
Following this critical review process, Innovators were enabled to identify weaknesses in their prospective solutions and supported to improve on their quality with a view to enhance their capacity for impact as well as readiness for senior management buy-in, and investment worthiness.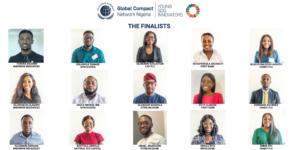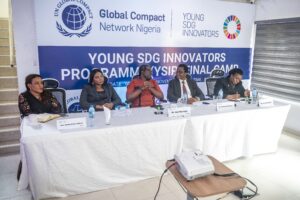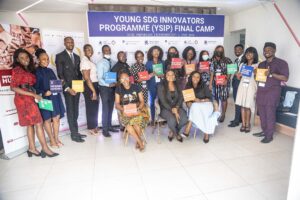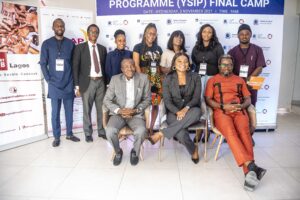 On 3 November, 2021, the UN Global Compact Network Nigeria, held the final camp – The Offboarding Camp and Business Solutions Showcase of its accelerator programme, Young SDG Innovators Programme (YSIP), after a series of intensive camps facilitated by LEAP Africa and Impact Hub Lagos. 
This first Nigerian cohort came to an end on a grand note with 8 companies making it to the final stage of the programme namely:  
CAP PLC

–  represented by Olubunmi Isiolaotan, whose "Employee Stock Ownership Programme" addressed SDG 8, with respect to developing an improved employee reward system; 

First Bank PLC

– represented by Modupereola Orunmyui and Ruth Olabode, whose "Sustainable Footprints Project" was developed with respect to enabling the company achieve SDGs 7, 12, and  SDG 17;

Knewrow Resources

– represented by Tomiwa Anjorin, Oluwaseun Oladapo and Olusegun Owoseni, whose "Built2Last" project focused on enabling sustainable SMEs business, and therefore enhancing employment and economic growth, through the standardization of business processes (SDGs 8 & 9).

MTN Nigeria

– represented by Kolawole David Somade and Nnyene Ime-Udofa Michael, innovators of the "Device Financing" solution, which enable low and middle income earners to enjoy enhanced access to the internet connectivity, and therefore to a world of digital services and opportunities (SDGs 4, 8, 9 & 10). 

Natural Eco Capital

– represented by

Rantiola Akinola,

whose work focused on enabling mechanisms to drive action for circular economy and climate action in line with SDGs 13 and 17;

Oando PLC

– represented by Busayo Balogun-Agusto, Oghogho Aghimien and Emike Etu, creators of the PET-to-PET plastic recycling Plant Project – a brilliantly practical execution of the 'circular economy' concept, in line with  SDGs 11, 12, 13 and 17.

Sterling Bank PLC

– represented by Babatunde Olusegun Sunmola and Israel Aduralere, creators of "One-Learning", a virtual skill acquisition Platform designed to drive youth employability and entrepreneurship, in line with SDGs 4, 8 & 9.

Union Bank PLC

– represented by Abiola Biya, whose solution, 'Alpher' – a Women's Banking & Capacity Building platform, is set to drive SDGs 5 & 8.