International Women's Day: Organizations, governments encouraged to commit to gender equality
Lagos, Nigeria
9 March 2022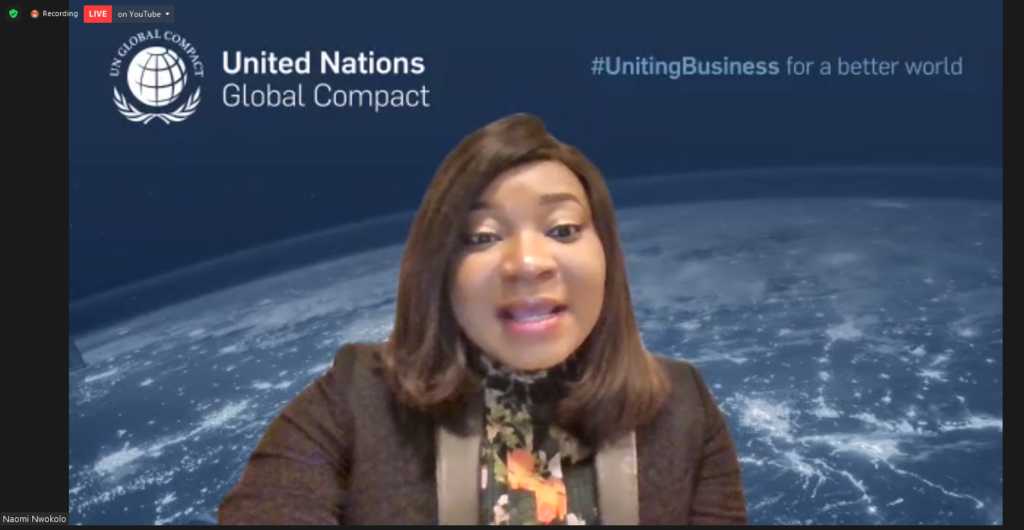 The Executive Director of UN Global Compact Network Nigeria, Naomi Nwokolo, made the clarion call in her goodwill message at the "Ring The Bell for Gender Equality" symposium held in commemoration of this year's International Women's Day on Tuesday, March 8.
The virtual event, which is an annual observation by 110 securities exchanges all over the world, was organized in partnership with the Nigerian Exchange Group (NGX Group) of Companies. Globally, it is coordinated by the Sustainable Stock Exchanges Initiative (SSEI), UN Women, the World Federation of Exchanges, and the International Finance Corporation (IFC) to drive attention to ongoing efforts by corporate organizations to close the gender gap within various business units, particularly in leadership. The theme for 2022 was "Break The Bias: Gender Equality Today For A Permanent Tomorrow."
Ms Nwokolo averred that in today's Nigeria, we cannot afford to be behind in addressing women's exclusion from decision-making. Women's full and effective participation in all aspects of development, as well as equitable chances for leadership at all levels, must be achieved.
"We urge organizations and government at all levels to join our cause, partake in Target Gender Equality, sign up to the Women's Empowerment Principles, and promote inclusivity to enable women to thrive," she said.
She also pointed out that this year's theme fully aligns with the work of the United Nations Global Compact. Stating that through the Target Gender Equality (TGE) programme which was run in Nigerian and 45 other countries in the world in 2021, the UN Global Compact supports member companies in setting and meeting ambitious corporate targets to advance gender equality.
She explained that through facilitated performance analysis, capacity-building workshops, peer-to-peer learning, and multi-stakeholder dialogues, companies learn to draft ambitious targets for women's representation and leadership.
In her closing remarks, the Executive Director affirmed passionately that "a seat at the table was no longer enough."
"Our voices must be heard and have equal weight. We must not only look at diversity numbers but focus on establishing truly inclusive workplaces. Gender equality has emerged as a top corporate sustainability issue and is gaining traction worldwide, yet progress is still slow and most companies have not sufficiently translated commitment to action. When businesses take action on gender equality, the impact has multiplying effects."
"Government policies supporting women are reinforced, civil society is encouraged to take steps towards supporting women, and harmful, dated social norms are changed to be more inclusive," she expressed.
The event was officially opened by the Group Chief Executive Officer of the Nigerian Exchange Group Plc, Oscar N. Onyema, OON, who offered his gratitude to the special guest of honour, speakers, panel discussants, and other attendants for honouring the event with their esteemed presence.
The highlight of the event was the official closing of the Market by the Hon. Minister of Women Affairs, Dame Pauline Tallen, OFR.
In her remarks, the Hon. Minister, who was the special guest of honour, congratulated Nigerian women of all ages, local and in the diaspora, for blazing the trail and creating social and economic opportunities. She offered commendations to the organizers and global partners for hosting the event.
Other speakers and panellists include Amb. Mariam Katagum, Hon. Minister of State for Industry, Trade and Investment, Lansana Wonneh, UN Women Deputy Representative, Nigeria and ECOWAS UN Women, represented by Chukwuemeka Onyimadu, National Economist, UN Women, Kevin Njiraini, Regional Director, Southern Africa and Nigeria, IFC, Robyn Oates, Sustainable Finance Specialist, UN Women, Kathleen Mignano, Operations Officer, Gender and Economic Inclusion Group, IFC, Temi Popoola, CEO, Nigeria Exchange Limited; Tokunbo Ishmael, MD/CEO, Alitheia Capital; Nkiru Balonwu, Founder and Co-Chair, African Women on Board, Irene Robinson-Ayanwale, Divisional Head, Business Support Services Division/General Counsel, Nigerian Exchange Limited; and TInuade Awe, Chief Executive Officer, NGX Regulation Limited.
Moderators: Mfoniso Udo, Strategy Analyst, Nigerian Exchange Group and Tolu Obajemu, Strategic Business Manager, NGX Regulation Limited.