More women must be involved in the decision making and leadership process.
20 companies from Nigeria and Ghana benefit from the 2nd Round of the Target Gender Equality programme
Lagos, Nigeria
11 March 2022
Participants from 20 companies in Nigeria and Ghana took part in the just-concluded Round 2 of the Target Gender Equality (TGE) programme. The closed sessions, which were organized in collaboration with the Global Compact Network Ghana, kicked off in September 2021 and came to a successful conclusion today, March 11, 2022.
TGE is an accelerator programme focused on supporting UN Global companies in setting and meeting ambitious corporate targets to advance gender equality. Since its commencement in September last year, the companies have engaged in facilitated performance analysis, capacity-building workshops, peer-to-peer learning, and multi-stakeholder dialogues in which companies learn to draft ambitious targets for women's representation and leadership.
Throughout Round 2, the facilitators took the participants through other insightful concepts such as Women Empowerment Principles (WEPs) GAP Analysis Tool, Setting Targets & Defining Ambition, Strategies for Success, Inclusive Language Training, How to be an activist, and Measuring & Communicating Progress.
Consequently, the organizations were enjoined to enhance diversity, equality, and inclusion (DEI) efforts and strengthen accountability for their progress.
The facilitators of the sessions were Dr. Olori Boye-Ajayi, President of Borderless Trade Network; Tolu Lacroix, Executive Director, Global Compact Network Ghana; and Tumi Onamade, Senior Manager, Participant Engagement & Programmes, UN Global Compact Network Nigeria.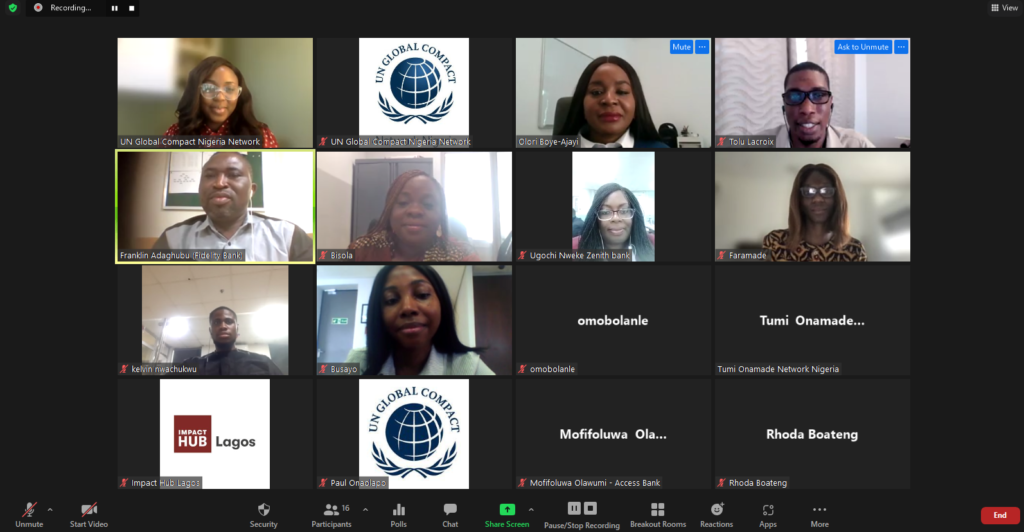 The participating companies include First Bank of Nigeria, Fidelity Bank Plc, Sterling Bank Plc, Ecobank Ghana, Zenith Bank Plc, Access Bank Plc, Oando Plc, Unilever, Nigeria Economic Summit Group, Flour Mills of Nigeria, Lafarge Africa Plc, IHS Nigeria Plc, SOLAD Power Group, and Better World Systems (BEWYS).
In their feedback on the impact of the TGE programme, participants expressed hope for positive change to achieve gender parity in their workplaces, bolstered by the knowledge gained from the extensive TGE programme.
Mofifoluwa Olawumi, Head of Sustainability Stakeholder Engagement, Reporting & Communications, Access Bank, offered her gratitude to the organizing Local Networks and facilitators.
"The sessions in the past three months plus have been very insightful, and I am quite hopeful that all the organizations here, represented, will take several steps in the right direction. Thank you UN Global Compact Network Nigeria, "she added.
Ugochi Nweke, Unit Head Corporate Sustainability, and Responsibility/ESG, Zenith Bank Plc, said that her drive to become involved in decision-making in her immediate community stemmed from the need to address gender imparity.
"Thank you for a really refreshing outlook on gender issues," she concluded.
While reflecting on the sessions, Asmau Aims Smaila, CSR Manager, IHS Nigeria, mentioned: "I see a proactive approach in the wider inclusiveness of different prongs of women. It is glaringly wholistic with consistent engagement."
Faramade Segun, Environmental and Social Risk Officer, Sterling Bank Plc, in her feedback on leadership at her place of work, stated that accountability is essentially being transparent about intentions and outcomes.
Busayo Balogun Agusto, Governance Officer, Oando Plc., noted: "Thank you so much to the facilitators. You all did an amazing job. We learned so much", she declared."
Bisola Sarumi-Ejoga, Corporate Social Responsibility Manager, Flour Mills of Nigeria Plc, thanked the organizers and described the sessions as helpful.
Nana Ama Boatemaa Ayenor, Business Development, BEWYS, commended the impact of TGE and expressed that mentorship was key in expanding employee engagement and inclusion in the workplace.
Commenting on the closing, Tumi Onamade, stated that the expected outcomes of TGE include supporting the development of ambitious targets for women's representation and leadership or revising existing targets and developing accountable action plans on how to meet them.
In his closing remarks, Tolu Lacroix, who thanked the participants, said that TGE had been an amazing in-depth programme, which had a wonderful group of companies to work with, and that he looked forward to more engagements.
"We appreciate the major contributions the participants are making in this field, and we can only push things higher. It's been wonderful to work with co-facilitators, and it's been a pleasure. I definitely look forward to the success stories."
The President of the Borderless Trade Network, Dr. Olori Boye-Ajayi, parted with high commendations to the participants for their engagement all through the sessions.
"TGE is one of a kind, for sure, and I hope that all the participants and the organizations really find proper ways to implement and take action," she concluded.
The upcoming Round of the Target Gender Equality Accelerator programme begins in July 2022 and ends in March 2023. Intending participants should send an email via info@globalcompactng.org.
ABOUT THE TARGET GENDER EQUALITY
Target Gender Equality is a gender equality accelerator programme for participating companies of the UN Global Compact. Through facilitated performance analysis, capacity building workshops, peer-to-peer learning, and multi-stakeholder dialogue at the country-level, Target Gender Equality will support companies engaged with the UN Global Compact in setting and reaching ambitious corporate targets for women's representation and leadership.
Companies participating in Target Gender Equality have the opportunity to deepen implementation of the Women's Empowerment Principles and strengthen their contribution to Sustainable Development Goal 5.5, which calls for equal women representation, participation, and leadership in business globally. Companies will be equipped with the latest data and research supporting the business case for gender equality and gain insights from UN partners and experts on how to accelerate progress on gender equality.
ABOUT THE UN GLOBAL COMPACT NETWORK NIGERIA
The United Nations Global Compact Network Nigeria is one of the 71 local networks (country office) of the UN Global Compact.
Guided by The Ten Principles and the 17 SDGs, we support companies and stakeholders in understanding what responsible business means within a global and local context and provide guidance to translate sustainability commitments into action. The UN Global Compact Network Nigeria stimulates and facilitates the creation of local connections and serves as a catalyst to companies and stakeholders to achieve Agenda 2030.
For more information, follow @globalcompactng on social media and visit our website, www.unglobalcompactng.org.