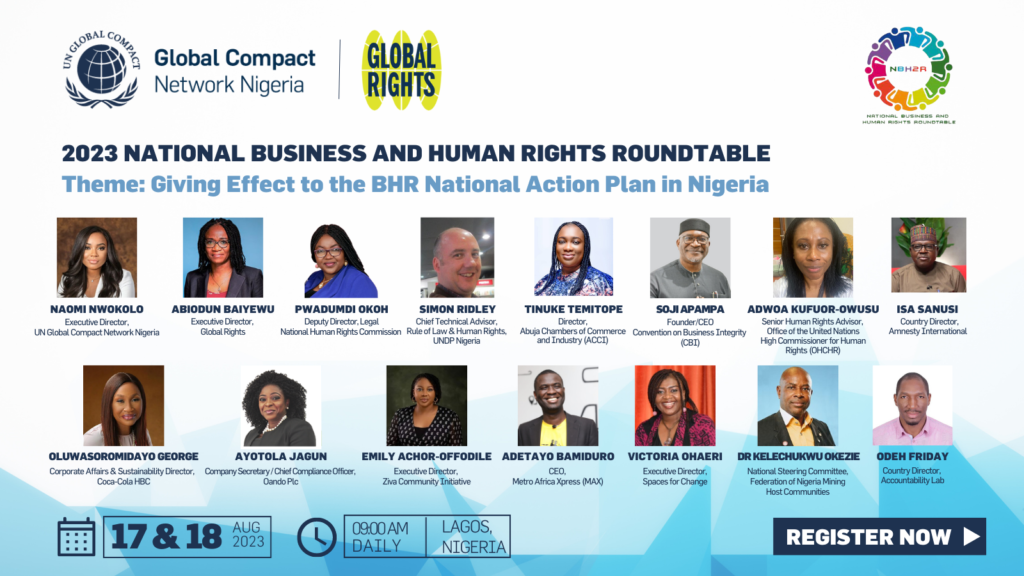 LAGOS, NIGERIA, 15 August 2023 — The National Business and Human Rights Roundtable, in collaboration with Global Rights, and the UN Global Compact Network Nigeria, are pleased to announce the upcoming 2023 National Business and Human Rights Roundtable (NBH2R), scheduled to take place on Thursday and Friday, August 17 and 18, respectively, in Lagos.
This year's event, themed "Giving Effect to the BHR National Action Plan in Nigeria," builds upon the success of the 2022 Roundtable. The 2023 National Business and Human Rights Roundtable aims to facilitate a comprehensive understanding and effective implementation of Nigeria's recently approved "National Action Plan on Business and Human Rights."
Soji Apampa, Founder/CEO, Convention on Business Integrity (CBi) and Chair of the Steering Committee on National Business and Human Rights Roundtable in Nigeria, noted that "this year's convening is poised to facilitate a shared understanding of the National Action Plan on Business and Human Rights by businesses, regulators, civil society organisations, business host communities, media, and other stakeholders and to promote collective perspectives on strategies for implementing the recently approved National Action Plan."
Naomi Nwokolo, Executive Director, UN Global Compact Network Nigeria, shared her optimism about the Roundtable, stating, The NBH2R will help businesses better understand common human rights issues, such as child labour, forced labour, discrimination, gender equality, living wages, and indigenous people. These issues may arise either through their own operations or their supply chain, and therefore, it is imperative to provide guidance on how they can be managed. Businesses must integrate human rights into their practices, particularly in complex social, political, and economic contexts where there may not be straightforward solutions to human rights impacts in their operations and supply chains."
According to Abiodun Baiyewu, Executive Director, Global Rights, businesses have a role in protecting human rights because businesses deal with assets that belong to communities. Although businesses have self-interest in profit, businesses cannot continue to be indifferent in protecting human rights. She further stressed the connection between businesses and human rights that should be based on fiduciary duty. She commended the Federal Government for approving the National Action Plan on Business and Human Rights, which she believes effectively operationalizes the government's Duty to Protect in the context of business and how businesses operationalize the Duty to Respect and pertinently, how to ensure Access to Remedy for individuals or communities adversely affected by business operations in Nigeria, especially in the mining/minerals sector.
The National Business and Human Rights Roundtable 2023 will feature a series of presentations, panel discussions andinteractive sessions. These activities are meticulously designed to foster dialogue, knowledge sharing, and innovative solutions to challenges at the intersection of business and human rights.
The line-up of speakers includes Pwadumdi Okoh, Co-Chair, BHR Roundtable Steering Committee/Deputy Director, Legal, National Human Rights Commission (NHRC); Simon Ridley, Chief Technical Advisor, Rule of Law and Human Rights, Nigeria, United Nations Development Programme (UNDP); Adwoa Kufuor-Owusu, Senior Human Rights Advisor, Office of the High Commissioner for Human Rights (OHCHR); and Odeh Friday, Country Director, Accountability Lab.
Notable panelists include representatives of various sectors such as corporate, human rights advocacy, commerce, and mining, such as Soromidayo George, Corporate Affairs and Sustainability Director, Coca-Cola HBC; Tinuke Temitope, Director, Abuja Chambers of Commerce; Dr. Kelechukwu Okezie, National Steering Committee, Federation of Nigeria Mining Host Communities; Ayotola Jagun, Company Secretary/Chief Compliance Officer, Oando Plc; Adetayo Bamiduro, CEO, MAX; Isa Sanusi, Country Director, Amnesty International; and Emily Offodile, Executive Director, Ziva Community Initiative.
The 2023 National Business and Human Rights Roundtable is expected to foster collaboration, identify best practices, and develop a network of stakeholders committed to promoting responsible business practices and human rights.
About National Business and Human Rights Roundtable
The National Business and Human Rights Roundtable is a multi-stakeholder initiative which provides a veritable platform for dialogue between the different stakeholders of business and human rights in Nigeria, including businesses, the government, regulators, business host communities, consumers, and civil society. The Roundtable brings together policy-makers, corporate strategists, advisers, advocates, and researchers. The Roundtable explores the possible direction of international regulation in the fields of business and human rights, as well as legal developments at the national level. The Roundtable was initiated in 2013, and its membership is constituted in consultation amongst the convening entities and in collaboration with the organised private sector and investment community in Nigeria, labour, security agencies, the relevant departments of government, and civil society.
About UN Global Compact Network Nigeria
The UN Global Compact Network Nigeria is one of the 74 Local Networks (country offices) of the United Nations Global Compact, the world's largest corporate sustainability initiative. Guided by The Ten Principles and the 17 SDGs, we support companies and stakeholders in understanding what responsible business means within a global and local context and provide guidance to translate sustainability commitments into action. The UN Global Compact Network Nigeria stimulates and facilitates the creation of local connections and serves as a catalyst to companies and stakeholders to achieve Agenda 2030.
For more information, visit us at www.unglobalcompactng.org.
About Global Rights
Global Rights is a non-governmental human rights organisation building local capacity for the promotion of human rights and good governance. The organisation has been dedicated to building the capacity of underserved communities and promoting participatory governance in Nigeria. The organisation's work focuses on a wide range of issues including access to justice, security, and human rights, and we are committed to advancing the protection, promotion and fulfilment of human rights through good governance.
You may visit https://www.globalrights.org/ng/