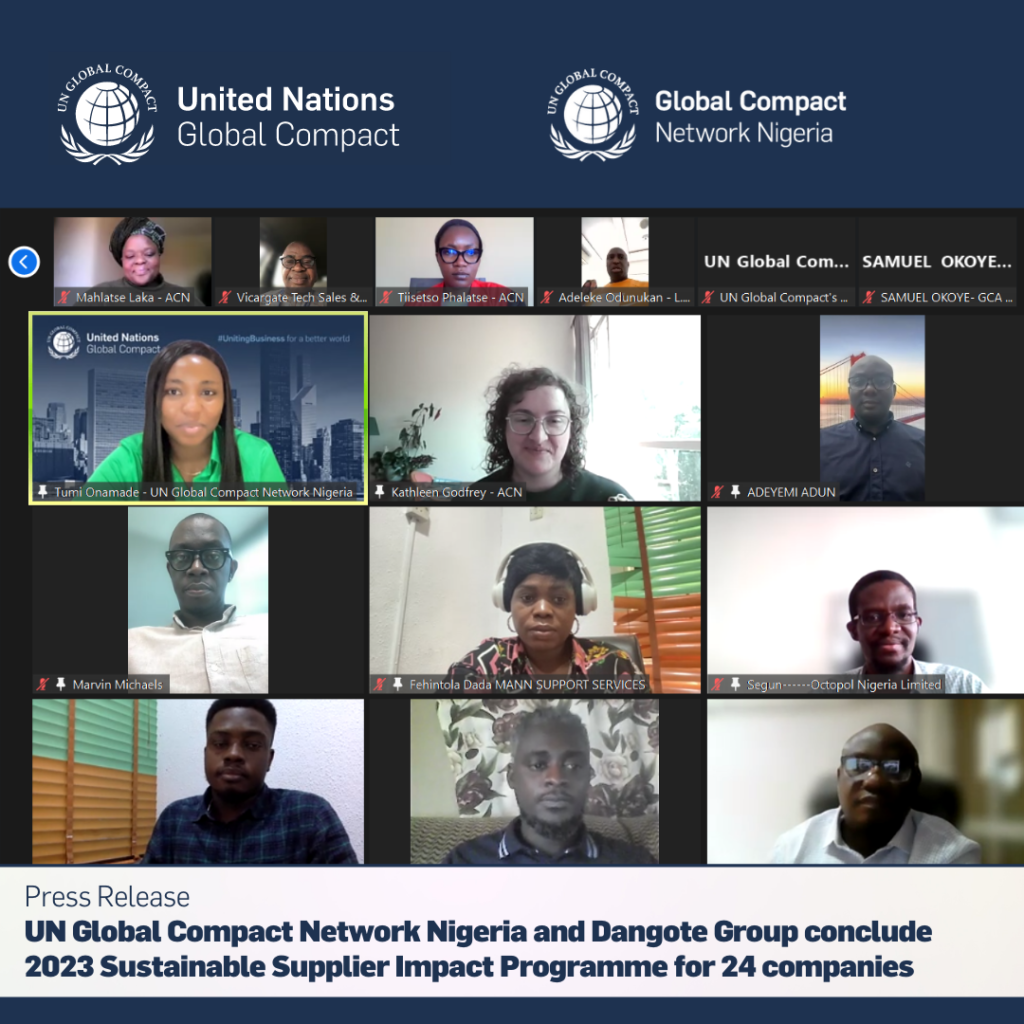 LAGOS, NIGERIA, 29 August 2023 — The UN Global Compact Network Nigeria, in collaboration with Dangote Group, successfully concluded the 2023 Sustainable Supplier Impact Programme (SSIP) for 24 companies, on Tuesday, August 8.
Developed as a global initiative by the United Nations Global Compact in collaboration with Accenture, the Sustainable Supplier Impact Programme has been a transformative force in advancing supply chain sustainability. This programme has empowered participants through targeted upskilling in social and environmental sustainability.
The five-month learning journey, which commenced on April 13, focused on instilling a culture of sustainable design across the Dangote Group's supply chain. Supported by the Incentives ecosystem network and Learning Capacity Development for SMEs, participants underwent four dynamic virtual live touchpoints spanning from April to August. These sessions covered vital themes, including the Business Value of Sustainability (May), Climate (June), Gender (July), and the Sustainability Journey (August).
Throughout this immersive virtual programme, participating SMEs gained unparalleled insights, which empowers them to harmonize their sustainability endeavours with global action and commitments.
In recognition of their dedication, the participating companies will be honoured with Certificates of Completion. These certificates hold significance as they bolster supplier branding and reputation, positioning them favourably in the competitive landscape. Moreover, the successful culmination of SSIP has a positive bearing on the ESG (Environmental, Social, and Governance) due diligence scorecard, serving as substantial evidence for comparative assessments with industry peers.
Reflecting on the profound impact of SSIP, Naomi Nwokolo, Executive Director of the UN Global Compact Network Nigeria, stated, "This program exemplifies the commitment to fostering sustainable practices throughout supply chains, contributing to a more resilient and responsible business environment."
"This collaboration with the UN Global Compact provides a very good opportunity for us to educate our supply chain on the core elements of sustainability and demonstrate how they are embedded in the way we do business in Dangote tagged "The Dangote Way". The program was very participatory as we have staff from our various business units joining the UN Global Compact team as panelists and shared experiences during the live touchpoints. We do hope as they take on board the learnings from the program, they are able to measure and set targets for the reduction of their GHG footprint, increase gender balance, develop a sustainability road map, and ultimately become a sustainable brand. 
We will keep the engagement alive, continue to provide support, partner with them to embed sustainability in their business, and ultimately contribute to the realization of the SDGs goal. As part of our contracting process, the demonstration of commitment and operationalization of relevant SDGs to the contractors is a scoring criterion, so the beneficiaries of this pilot program already have an opportunity to clearly fulfil that condition. Dangote has now, through this collaboration, fulfilled a critical element of our Sustainability roadmap on upskilling the supply chain. We encourage all the beneficiaries of this programme and others to leverage the vast resources made available by the UN Global Compact." Dangote Group articulated.
"Accenture is committed to delivering long-term value for society through clients, suppliers, and communities. Since starting this collaboration with the UN Global Compact in early 2022, Accenture has worked to address critical sustainability issues and encourage small and medium enterprises to take collective action through learning, incentives, and engagement." Accenture added.
This collaborative journey towards sustainability underscores the power of united action to drive positive change. The 24 companies join their counterparts in India, Kenya, and Spain in benefiting from the pilot programme.
About UN Global Compact Network Nigeria
The UN Global Compact Network Nigeria is one of the 74 Local Networks (country offices) of the United Nations Global Compact, the world's largest corporate sustainability initiative. Guided by The Ten Principles and the 17 SDGs, we support companies and stakeholders in understanding what responsible business means within a global and local context, and provide guidance to translate sustainability commitments into action. The UN Global Compact Network Nigeria stimulates and facilitates the creation of local connections and serves as a catalyst for companies and stakeholders to achieve Agenda 2030.
For more information, visit us at www.unglobalcompactng.org.

About Accenture
Accenture is a global professional services company with leading capabilities in digital, cloud and security. Combining unmatched experience and specialized skills across more than 40 industries, we offer Strategy and Consulting, Technology and Operations Services and Accenture Song – all powered by the world's largest network of Advanced Technology and Intelligent Operations Centers. Our 738,000 people deliver on the promise of technology and human ingenuity every day, serving clients in more than 120 countries. We embrace the power of change to create value and shared success for our clients, people, shareholders, partners and communities. For more information, visit us at accenture.com.
About Dangote
Dangote Group is a diversified and integrated conglomerate with extensive operations across several critical sectors of the economy in Nigeria and Africa. We provide the basic needs of our various consumers, customers and stakeholders with our transformational projects and businesses across the construction, agricultural, food, shelter, and transport sectors etc. Dangote Group continues to grow its vision of becoming Africa's leading provider of essential needs.